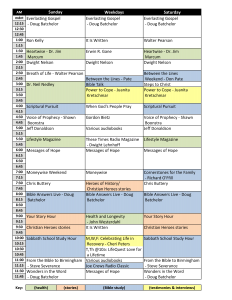 Check out our new and improved schedule by clicking on SCHEDULE in the black bar above. If you're viewing the mobile-compatible website, first touch the three horizontal bars on the left.
Listen to an abbreviated version of the popular "Messages of Hope" just before noon, check out a brand new program "Health and Longevity' with Dr. John Westerdahl at 9:00 am, or be inspired by the late Pastor C. D. Brooks on Tuesdays and Thursdays at 7:00 pm.
Let us know if you're being blessed by WSJL.